Herbs and spices have a powerful impact on the quality of your cooking. To preserve these important, expensive ingredients, keep them in a cool, dark place with minimal humidity. All too often spices are left near ovens and sinks. The heat, light and moisture in such places leach the flavor out of high-quality spices.
Adding fresh herbs to season your food is a great way to add some flavor to an ordinary dish. Dried ingredients, like herbs, are acceptable if you are making a complex dish of many flavors. Fresh herbs have brighter flavors, though, and will lend a fresher taste to your meal. One way to ensure that you have fresh herbs is to plant a herb garden.
Store your cooking spices in a cool dry place. This will ensure the longevity and potency of the flavors in your herbs and spices. A dark cabinet away from the stove is the ideal storage place. Spices kept in bright, hot environments usually fail to maintain their flavor long before any expiration date comes.
When seasoning your food, remember that it is much easier to add more seasoning if needed, but you cannot take it away if you add too much. That is why it's important to go light when seasoning with herbs and spices. You want to compliment the flavors of the food and not overpower them.
When you are chopping herbs before your meal, a tip that you can follow is to throw a little bit of salt on the chopping board. This will give you extra friction so that you can maximize your cuts. Quality cuts of herbs will lead to a great meal when everything is complete.
Keep greens like arugula and herbs fresher longer by wrapping them in a damp paper towel and placing them in a zippered storage bag in the refrigerator. This technique keeps the leaves from shriveling and drying out, and may extend the life of your herbs or greens for an extra four days.
Make sure that you understand the conversions for substituting dried herbs for fresh in a recipe, and vice-versa. While some herbs, including basil, lose a bit of flavor during the drying process, the flavors of herbs like oregano actually intensify. If you are unsure how much of an herb to use, start with small amounts and gradually add more.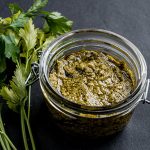 Photo by wuestenigel