A great grilling tip to improve flavor and consistency is to try to cut similar foods into the same size pieces. This ensures that foods stay moist and grill evenly. A nice side benefit is that it also makes your workload a little easier. By cutting out the hassle of constantly monitoring foods for doneness, you have the peace of mind of knowing your foods will all be ready right about the same time.
To sear a rib-eye, T-bone, strip or other steak to perfection even when you can't fire up the outdoor grill, flip a cast-iron skillet over and broil the steak in your oven. Heat the skillet in a hot oven prior to placing the steak on its surface, and cook to your preferred level of doneness.
After cooking, always let your meat rest before serving it. This is especially true when you pull meat from a hot grill. Moisture that keeps your meat tender is sealed within it. When you cut steaming hot meat, the steam that rises is actually the moisture leaving the meat. When you let meat "settle" for at least 15 minutes prior to serving, the moisture and tenderness is preserved.
Having trouble with your meats sticking to your pan or grill? This is an easy thing to fix. Just spray your pan or grill with a spray oil before you begin to cook. This will put a coating on the surface of the pan or grill, and will keep your meats from sticking to a dry surface.
Does your family love roasted vegetables? They taste wonderful but can get dried out and too crispy when roasted in the oven or on a grill. A little known secret is that vegetables will roast well in their own juices when placed in a crock pot. Hard root veggies like carrots, potatoes, sweet potatoes, onions, garlic and more, will roast to perfection when placed in the crockpot for 6-8 hours (depending on quantity) on low heat. You can add a little bit of salt and seasoning and a tablespoon or two of olive oil if you like, but they also roast perfectly well just in their own juices. Your vegetables will turn out delicious and healthy!
You may have heard master chefs on TV say, "Let the meat rest before serving it." A lot of people don't understand the importance of letting a meal sit for a while. Many people are tempted to rush food to the table when serving a meal. Unfortunately, serving your meal immediately can take away from the taste and quality. The flavors intensify if you let the meal "rest" for a few minutes.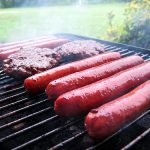 Photo by frankieleon